In the modern business landscape, digital marketing has become the lifeblood of many businesses. While traditional methods of marketing are still important, the power of the digital world is propelling businesses to new heights. GetResponse, a trailblazing player in this space, aims to reinvigorate this sphere with innovative AI-driven tools.
GetResponse: Revolutionizing Digital Marketing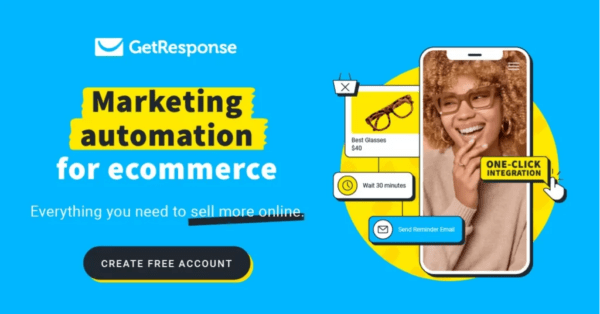 In the vast, dynamic world of digital marketing, one platform stands tall and mighty – GetResponse. More than just an email marketing software, GetResponse is an all-in-one multi-channel marketing platform that provides businesses with the tools they need to succeed in the modern digital landscape.
GetResponse goes beyond traditional email campaigns, landing pages, and auto-responders. Its user-friendly interface and robust capabilities make it a reliable solution for businesses of all sizes. With impressive add-ons such as webpage hosting, CRM, webinar hosting, and an automation builder, it integrates all your marketing efforts into a single, streamlined platform.
Blending email marketing, laser-targeted campaigns, e-commerce tools, and more, GetResponse empowers businesses to create highly engaging, responsive, and profitable marketing campaigns. Its innovative suite of tools, topped by cutting-edge AI capabilities, positions businesses to reach their targeted audience effectively, create a powerful online presence, and convert leads into loyal customers.
Designed by marketers for marketers, GetResponse's dedication to customer success and innovative drive underlines its commitment to revolutionize digital marketing, one campaign at a time. Whether you're a start-up looking to make your mark or an established brand looking to expand your digital footprint, GetResponse offers a comprehensive solution for your marketing needs.
Artificial intelligence + GetResponse = A Matchmade in Heaven
Bridging the Gap with AI Campaign Generator
In the world of marketing, there's no room for error. Every word in an email, every image on a landing page, can make a massive difference to your campaign's success rate. GetResponse's AI Campaign Generator promises to bring a sea change in how marketing campaigns are designed.
Powered by industry-leading OpenAI technology, this tool takes the guesswork out of the creative process. After defining the name and context of the campaign, you set back while the tool crafts a landing page, welcome email, and a follow-up newsletter. But this isn't just about speed; it's about efficiency.
A time-consuming process that would typically take hours, if not days, is dramatically simplified. Users have saved up to an impressive 85% of their email creation time, a significant productivity booster. The added advantage of the upcoming multilingual support means companies can penetrate new markets, reaching customers in their local languages.
Engaging Users with Web Push Notifications
Being noticed in the sea of digital information is challenging. GetResponse provides businesses with a lifeline using its Web Push Notifications, targeting users on both desktop and mobile browsers.
AI enhances these notifications, enticing subscribers through automated alerts highlighting promotions, sales, or custom messages. The marvel of machine learning enables optimised notifications, ensuring they are delivered when users are most likely to engage.
Tailoring your messaging with custom colors, brand icons, or specific call-to-actions can completely transform your engagement rates. Plus, re-engaging with site and cart abandoners is made simple. You can refocus their attention with exclusive deals or content they may have missed.
Amplifying Your Ads with the Paid Ads Creator
In an ever-evolving digital landscape, GetResponse's Paid Ads Creator provides an innovative approach to running Google and Meta ads. This tool leverages AI, combining it with insights from email marketing campaigns to deliver highly-targeted ad experiences.
AI-powered content simplifies the high-converting ad copy generation, saving your creative energy for other important tasks. Businesses can also retarget their landing page visitors on Facebook, extending their marketing efforts. The integration with Instagram means there exist multitudes of possibilities to create powerful brand narratives and make meaningful connections.
Standing Out with the Social Ads Creator
In an attention-deficient age, only the most captivating content stands out. GetResponse's Social Ads Creator tool makes creating a visually rich, engaging social media presence a breeze with its hundreds of pre-designed professional templates.
But it's not just about appearances. The tool is designed to create content that resonates with your audience, creates engagement, and builds a solid brand presence on various social platforms. With the Social Ads Creator tool, your business can create banner ads, animations, promotional material, and more.
Conquering Email Marketing with AI Email Generator
With GetResponse's AI Email Generator, businesses can craft engaging emails quickly and effectively. Using OpenAI technology, the tool creates professional emails that resonate with recipients. The generator includes customizable templates, taking care of layout and format.
More exciting is the upcoming AI writing assistant and AI-enhanced A/B testing tools. These will revolutionize email marketing by providing tailored suggestions and campaign insights.
Conclusion
In this fiercely competitive digital world, standing out is a testament to a company's marketing efforts. GetResponse's suite of AI-driven tools truly allows companies to redefine their digital marketing strategy.
With the AI Campaign Generator, AI Email Generator, Paid Ads Creator, Web Push Notifications, and Social Ads Creator, GetResponse is architecting the future of digital marketing. Embracing these tools creates an opportunity for businesses to expand their reach, cultivate better engagement, maximize conversions, and achieve a significant competitive advantage.
But don't just take our word for it. Start recharging your digital marketing strategy with GetResponse's AI-driven tools today. Witness firsthand how these innovative tools can simplify your campaigns, save your time, and escalate your marketing results.
Ready to transform your digital marketing? Click here to try GetResponse's suite of AI-powered tools now. Remember, the future of marketing belongs to those who are bold enough to embrace the power of artificial intelligence. Don't let your business be left behind.