In the digital era where social media platforms have rapidly grown into bustling marketplaces, brands must strive to stand out with engaging and eye-catching content. GetResponse's Social Ads Creator is your ultimate digital companion, empowering you to create captivating and highly effective social media campaigns. This comprehensive guide is designed to help you leverage this tool to its full potential.
Meet GetResponse's Social Ads Creator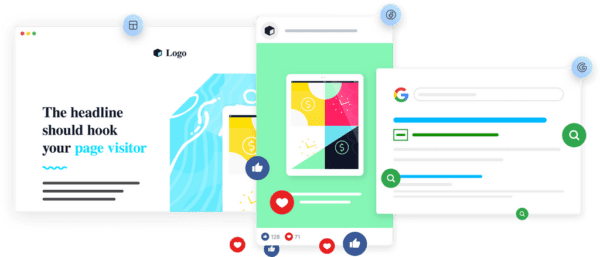 The Social Ads Creator is a user-friendly and powerful tool that is part of GetResponse's suite of offerings. It simplifies the creation of social media campaigns for Facebook, Instagram, Twitter, LinkedIn, and other platforms.
Crafting visually appealing campaigns can be daunting. This is where the Social Ads Creator shines, as it places professional-grade design capabilities right at your fingertips.
The Step-by-Step Guide to Creating Social Ads
Step 1: Selecting the Perfect Template
To kick-start your campaign, sift through GetResponse's extensive collection of professionally designed templates. Choose the one that aligns best with your objectives and brand aesthetics.
Step 2: Customizing Your Template
After picking a template, customize it to meet your vision. The intuitive interface lets you modify colors, text, and images until you're confident that your ad represents your brand to perfection.
Step 3: Curating Your Caption & Hashtags
But GetResponse's Social Ads Creator isn't just about crafting visually appealing ads—it also assists in composing engaging captions and effective hashtags. This ensures your content doesn't just look great but also gains visibility in social media algorithms.
Step 4: Scheduling Your Posts
Once your ad looks ready to gather attention, schedule it for optimal times. Spacing out your ads ensures consistent engagement and better visibility in the highly competitive social media landscape.
Tips for Success with Social Ads Creator
Maintain consistency with your brand's style by utilizing uniform design elements, fonts, and colors.
Keep your target audience in mind to create content that resonates with their preferences and interests.
Be mindful of each platform's unique style when tailoring your ads, as different tones and language might be needed.
Benefits of GetResponse's Social Ads Creator
Saves time: The user-friendly interface and a plethora of templates save valuable time that can be redirected to enhancing your marketing strategies.
Professional designs: Exceptionally designed templates ensure top-tier quality, fostering a better impression of your brand.
Optimized for visibility: Ingeniously curated captions, ad placement, and hashtags help your campaigns stand out in busy social feeds.
Cost-effective: Shift away from budget-draining professional designers and efficiently manage all your social media creative needs at a fraction of the cost.
Conclusion
Crafting compelling social media campaigns is no longer a privilege exclusively for large corporations with deep pockets. With GetResponse's Social Ads Creator, businesses of all sizes can gain a competitive edge with visually stunning and high-performing social ads. Elevate your brand's social media presence today and watch consumer engagement and conversions soar.