​The Best WordPress Theme Builders Software Comparison 2020 By Ranking
Are you looking for the best WordPress theme builder comparison? In this article, we will go through ​only the best WordPress theme builders in 2020—and sort them by ranking.
​Sounds good?
​Let's get started.
1. ​Oxygen Builder
First in the list of the best WordPress builder 2020 is no other than Oxygen Builder. Oxygen Builder is the cleanest and leanest WordPress builder plugin that I had ever used.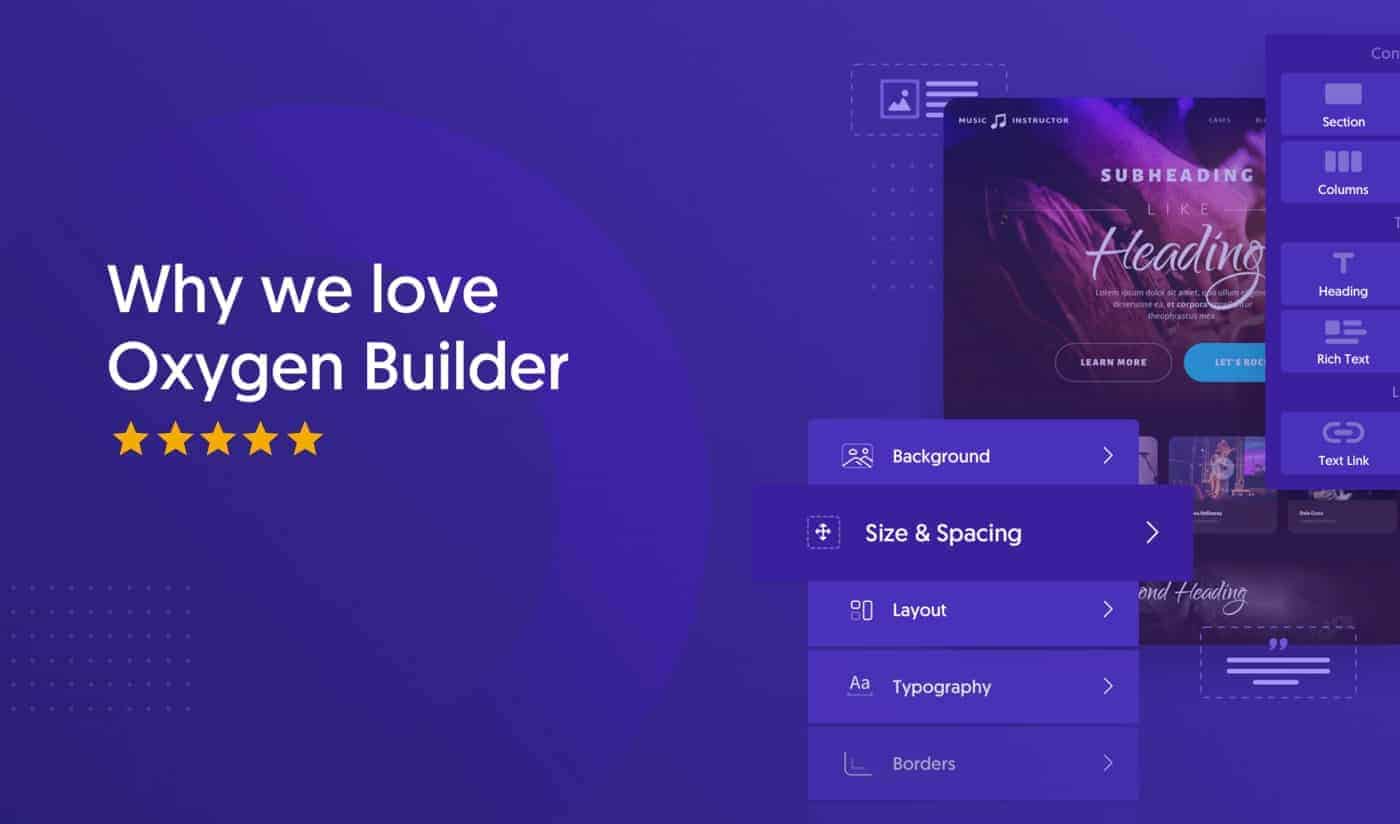 But, it may not be suitable for everyone.
Read the details below to learn more.
​Not sure if Oxygen Builder is the right one for you? Check this out.
| Key Features | Rating |
| --- | --- |
| ​Overall drag and drop feature | ​Drag and drop is very intuitive. Powerful at the very least. |
| ​Loading speed | ​Beats every WordPress builders without any cache plugin |
| ​Bloat free | ​Super clean and lean |
| ​Gutenberg integration | ​Fully support Gutenberg blocks |
By far, Oxygen is the best theme builder for WordPress developers and bloggers who have some level of coding skills (ouch). While it is still beginner friendly, it takes a little time to really master and discover what Oxygen can do for you.
​This is how Oxygen Builder looks like on the backend.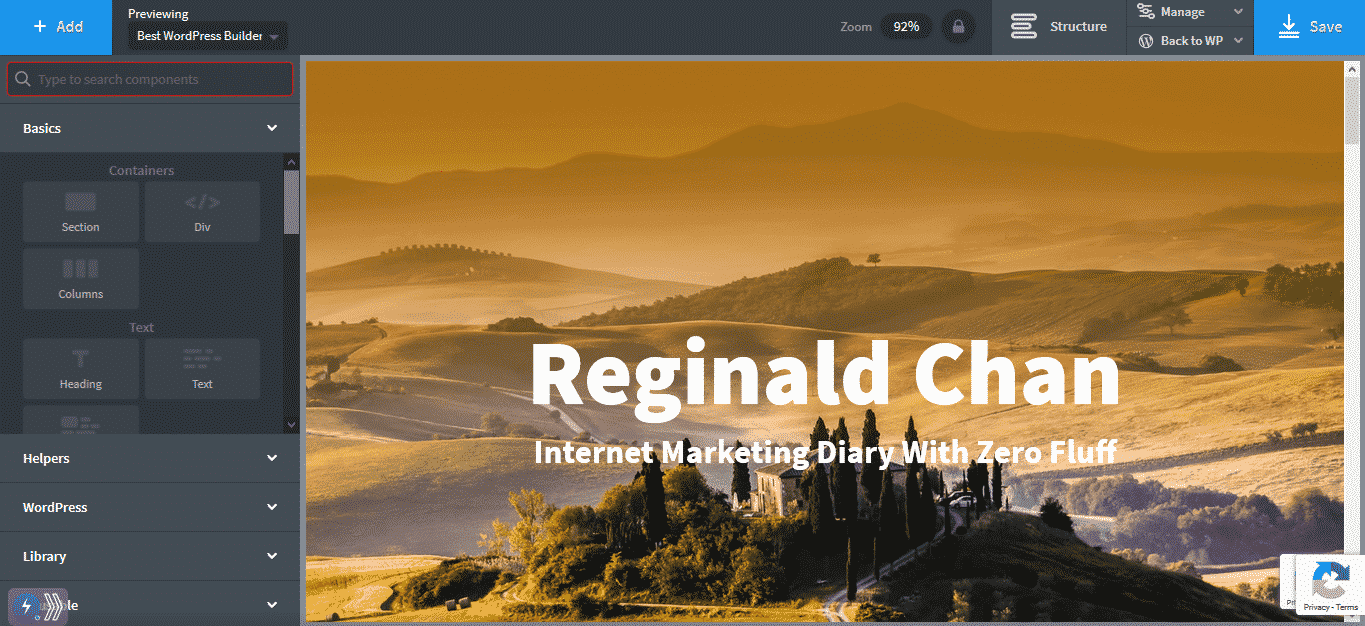 ​Now, the downside of Oxygen. Just like any other WordPress builder tools, Oxygen has its downside and disadvantages too.
​It has some core features missing as compared to other WordPress builders (example, the undo button)

​Activating Oxygen means you will deactivate any active themes

Oxygen is so lightweight that it might not have some core files found in common WordPress themes

Learning curve to use Oxygen Builder is slightly higher than moderate
​Oxygen comes with three pricing—Basic ($99), WooCommerce ($149) and Agency ($169). All of these three plans come with lifetime access and unlimited website usage (which is a plus point)
​2. Thrive Themes Builder
​Make no mistake. Thrive Themes Builder is definitely on my second spot when it comes to ​the best Word​Press theme builder plugin in 2020.Thrive Themes Builder is the latest release and it had taken the WordPress industry by storm.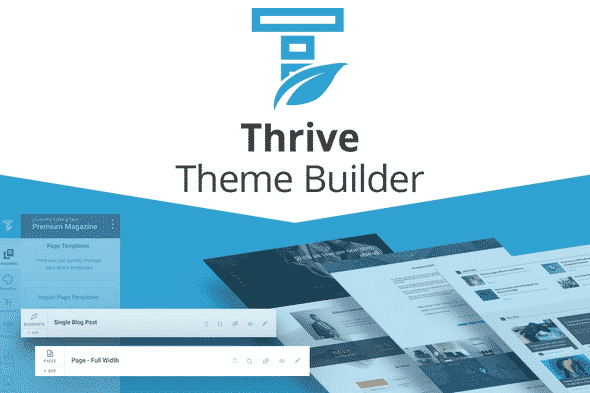 ​​Thrive Themes Builder comes with Thrive Architect and Thrive Leads integrated with it. And this means that you are getting the full suite of what Thrive Themes can offer.
Here are the key features of Thrive Themes Builder.
| Key Features | Rating |
| --- | --- |
| ​Drag and drop builder | ​Very intuitive and uninstalling doesn't break your site |
| ​Ease of setup | ​Pretty neat and fast |
| ​Demos and templates | ​Over 300+ ready for download |
| ​Compatibility​ | ​Works well with most of the WordPress plugins |
​Thrive Themes Builder uses Shapeshift theme. This allows you to easily create a customized WordPress theme with drag and drop feature and without touching a single line of code.
​Watch this video to learn how you can create a website template from scratch using Thrive Themes Builder and Shapeshift (under 2 minutes flat)!
​Is there anything I dislike about Thrive Themes Builder?
​To be honest, I tried hard but I couldn't find something that I really dislike using Thrive Themes Builder. If I would need to choose one, I would say that my biggest concern is having to pay $19 for the ​subscription monthly for Thrive Membership.
​Other than that, I'm a superb happy customer with Thrive Themes Builder. Click the below button to try Thrive Themes Builder yourself!
​3. Elementor Pro
Elementor is one of the most popular WordPress theme builder. Elementor calls themselves as the #1 free WordPress Page Builder and that is very true. With over 4 million active downloads, Elementor is definitely one of the heavy hitters in the WordPress world.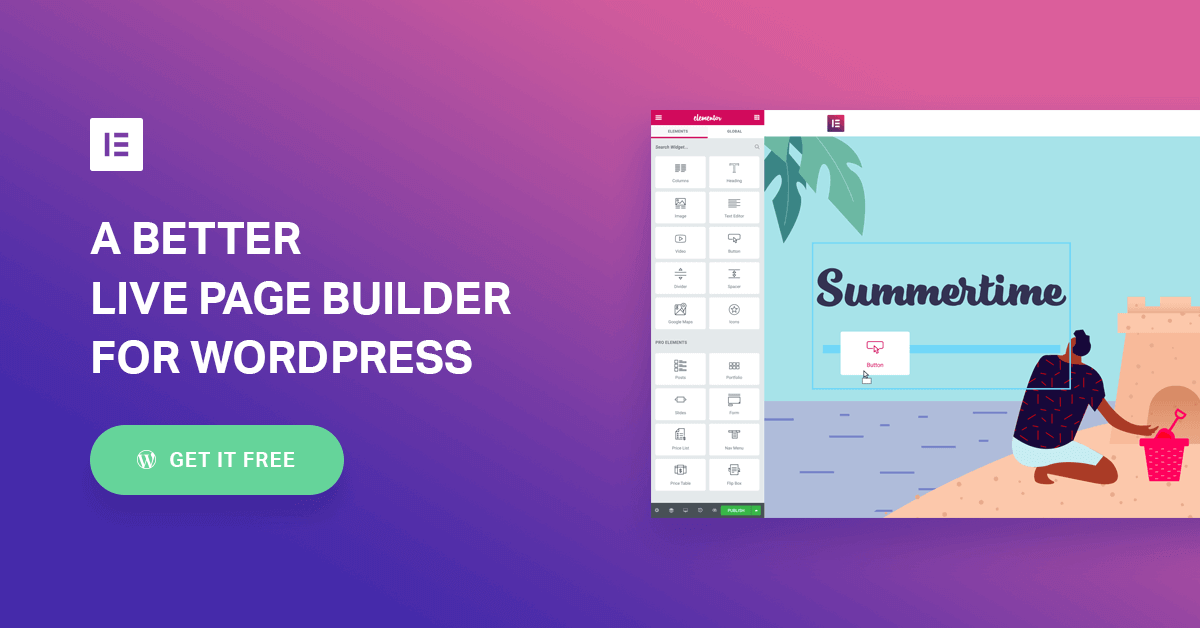 ​Prior to moving to Oxygen + Thrive Architect (here's the guide on how I made both Oxygen and Thrive Architect play well with each other), I was using Elementor Pro and mind you, I was a happy user!
​And for the record, I still use Elementor Pro for some of my sites but not my main sites like this one. 
​I used Elementor as early as their beta stage—and I cannot be happier. Here are some of the best Elementor features for WordPress owners.
| Key Features | Rating |
| --- | --- |
| ​Affordability | ​Comes with both free and paid version |
| ​Customize everything | ​Drag and drop everything |
| ​Mass usage | ​Suitable for ​designers, developers, marketers, and entrepreneurs |
| ​Ready made templates | ​Over 80+ ready made templates |
​There is no denial that Elementor is one of the best in the market. However, it is important to note that the free Elementor version comes with very limited features. 
​At the same time, there are many Elementor addons that you can install and use to further improve the experience and end results of your WordPress design.
If you are looking for a great Word​Press theme builder software 2020, you can't go wrong with Elementor.
​4. Divi Theme Builder
​Divi Theme builder is not far the pack and as a matter of fact, it is the fourth in the top 5 best ​​Word​Press theme builder plugin in 2020. Divi had long been in the backseat in the WordPress builder industry but they started to bounce back to the top 5 thanks to the all new Divi shape dividers feature.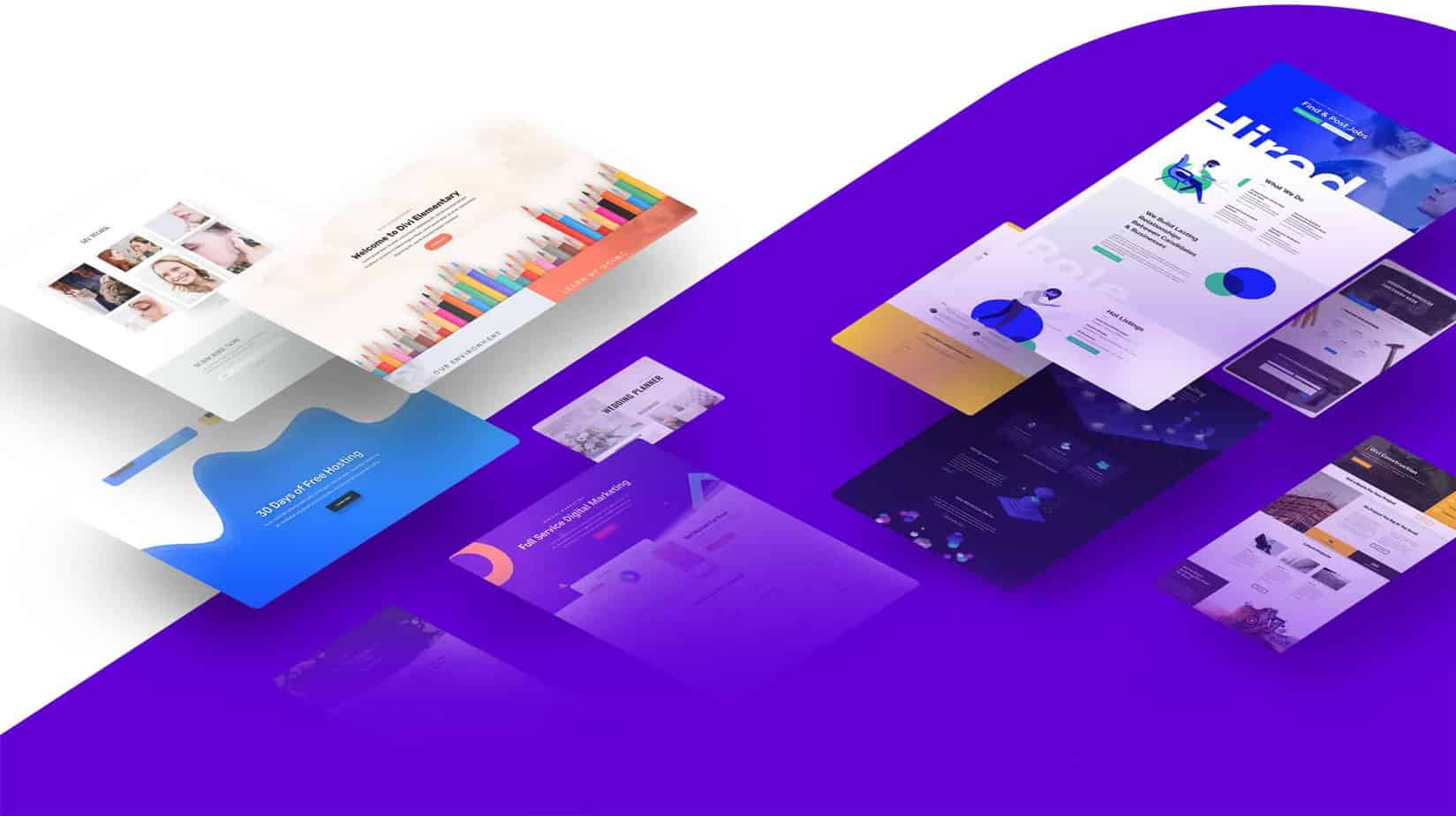 ​Here are the important features of Divi theme builder.
| Key Features | Rating |
| --- | --- |
| ​Ready made modules | ​40+ ready made website templates |
| ​Ready made​ designs / elements | ​800+ demos with 1-click ​install function |
| ​Codeless | ​​No coding skills required |
| ​Learning curve | ​Easy for beginners |
​Divi Theme Builder is one of the most popular WordPress builders used by website developers. For starters, it is a one-time purchase that comes with unlimited websites and unlimited updates.
​Here are some of the downsides using Divi Theme Builder:
​Very bloated

​Ready made templates are large in size and impact website loading speed

Not suitable for shared hosting
​Nonetheless, ​Divi Theme Builder is still a powerful option—especially in the hands of a WordPress developer who knows how to remove the bloat from Divi. 
​On the side, it is important to note that Divi scores well in terms of usability and beginner-friendly. With yearly pricing starts at $89 and lifetime license at $247, this is definitely a well-invested WordPress tool for website development.
​5. Beaver Builder
Last but not least, Beaver Builder. Beaver Builder is a powerful WordPress Page Builder plugin that is used by both beginners and professionals.
​Here's a quick video of Beaver Builder.
​I do use Beaver Builder for some of my clients works, but not my main tool. What I really love about Beaver Builder are as follow.
| Key Features | Rating |
| --- | --- |
| ​Drag and drop builder | ​Very intuitive and powerful |
| ​Agency features | ​White-labeling, override core templates, etc. |
| ​Help and support | ​One of the friendliest community around |
| ​Availability in theme builder and plugin | ​Highly compatible and great options |
​If you are looking for the top WordPress builders in 2020 based on ranking, you can't go wrong with Beaver Builder.
​Some of the downsides that you should take note are:
​Higher pricing tier (starts at $99 for the standard package)

​Powerful features are available from mid-tier and higher

The ​Beaver Builder theme is only available from mid-tier onwards
​Overall, Beaver Builder is still a nice WordPress theme builder tool. It is powerful and offers many possibilities, especially in creating a website design of your choice.
WordPress ​Theme ​​Builder ​Comparison
​There are many options when it comes to choosing the best WordPress theme builder that fits your need. Here's my top choice of WordPress theme builders based on rankings: