Today's article is all about the new WPEngine hosting pricing. Few weeks back, you have heard a lot of news about WPEngine pricing increase and the WPEngine pricing change.
Yes, you are right.
The WPEngine hosting pricing had changed and from the outside, WPEngine has increases the pricing structure for all the available web hosting plans (including WPEngine enterprise pricing).
At first, I was shocked to see the price change (I'm sure it is like you too). After going through the details, I noticed that there are many information most reviewers had overlooked.
I'm going to cover all of those in this article and of course, share with you on my thoughts of the new WPEngine hosting pricing.
WPEngine pricing increase suits more towards enterprise hosting?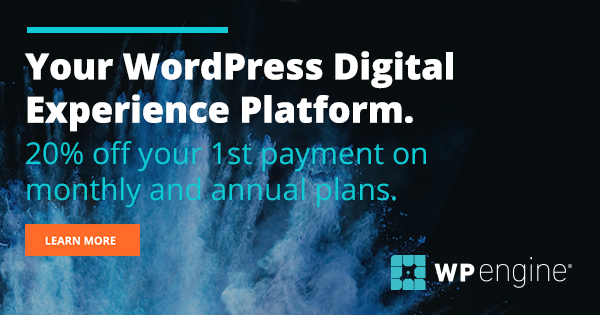 I know. WPEngine has always been the market leader in both performance and pricing structure which makes it a no-brainer choice for enterprise hosting.
Does the performance and pricing makes WPEngine suitable for enterprise hosting only?
The answer is "No."
WPEngine is suitable for beginners, bloggers and enterprises who doesn't want to get their hands dirty with web hosting security and performance. This group of people aims to have the best server uptime and providing excellent website availability.
After all, a website that is inaccessible means zero income for you.
What had changed in the WPEngine hosting pricing?
Take a look at the old WPEngine hosting pricing table as below.
Now, let's take a look at the new WPEngine hosting pricing for 2018 and beyond.
Major changes in WPEngine hosting features
Generally, the pricing increase is the most significant especially for higher WPEngine hosting (if you compared based on dollars and cents) plans aka WPEngine enterprise pricing.
Apart from that, the introduction of bandwidth is also an interesting move by WPEngine.
The "WOW" factor for the new WPEngine hosting pricing
Personally, the biggest turn on for me would be the Content Delivery Network (CDN) services. Most premium WordPress hosting companies offer CDN at an additional costs of at least $10 per month.
With a mere increase of a few dollars using the new WPEngine hosting plans, you can now fully leverage the power of CDN and increase your website loading speed.
Is WPEngine right for you?
Here are some quick questions to ask yourself right now:
If your answer is "Yes" to any (or most) of the above, then WPEngine might be a good match for you.
It is important for you to understand that while WPEngine is the best managed WordPress hosting provider, it may not entirely be the best option for you.
Therefore, click here to reach out to the sales team to discuss and understand more about the features, pricing structures and even WPEngine discounts (if applicable) before making the jump!
I also recommend you to check on your website loading speed (which is free) below.
Summary: WPEngine Hosting Pricing Increase
I got to be honest to tell you that I hate any pricing increase. Seriously.
The features provided by WPEngine now has increased inline with the increase of the new pricing structure. Plus, an increased of pricing also put more pressure on WPEngine to provide better performance and support which are two of the top selling points.
As a recap, I feel that WPEngine hosting pricing for lower tiers and WPEngine enterprise pricing are still very competitive in the market today.
What do you think? Click here to find out more about WPEngine (and how you can get 2 months free hosting)!