In 2021 we witnessed immense growth. We had a crazy bull run in the stock markets and startup space.
2022, on the other hand, was and continues to be a bloodbath. Every day the stock market seems to plummet to new lows. 
All of this, paired with inflation, and war, has negatively affected startups. Funding that VCs gave out to everyone the previous year has dried out. Well-known companies such as Coinbase are rescinding offers from freshers.
Does this mean startups are dead?
Do online businesses have a chance to come out of this catastrophe? The answer is still yes!
The only thing that has changed is that startups need be profitable businesses. And that's a good thing.
Startups still have the most significant advantage — they don't have to go through hundreds of people, managers, and processes.
They can execute fast without hindrance. This hasn't changed and will never change, funding or not.
But for a startup to come out on top, it must use the best tools available in the market. While startups thrive on chaos, organized chaos is an entirely different monster. Organized chaos is what makes five people Startup into a Unicorn.
If you are a founder or a part of a startup, use these tools to beat the competition in these perilous times.
A Tool To Understand Your User's Behavior
Understanding how your users interact with your product is essential. It is important to know where your users spend most of their time and how they navigate across your app.
This information helps your designers and developers make better products.
To get this information, you need an analytics tool. And what better tool than Google Analytics.
It has been in the market for years and has been tried and tested by the best companies.
Google Analytics lets you analyze many things, such as website traffic and page traffic. You get an idea of how your user has landed on your page and their demographic.
The best part is the ease of integration. You just have to add the GA SDK to your app, and you're done. It's that simple. You can modify everything to your needs.
You can also determine how users interact with different components. You can get information on what buttons and links your user clicks.
In general, you get four types of data with Google Analytics.
You get user data that pertains to demographic, age, etc.
Session data keeps track of a user's visits and time spent.
You get information on the pages a user visits.
Finally, you get event-level data. This lets you track buttons, videos, links, etc.
A Tool To Keep Your Customers Happy
Customer satisfaction and retention make or break your product. If your customers aren't happy, they won't use your product. It's that simple.
You can only keep your customers happy by taking feedback, responding, and implementing.
Telegram and Discord channels are not the best way to proceed. If you've played Chinese whisper, you know how details are missed as they pass different people.
The same applies here. The issue will get hazy by the time it reaches the developer. The customer might have a problem with updating his profile. The developer will hear something else from the customer relations team.
This is why you need a CRM for your developers to stay in touch with your customers. You need a DevCRM. You need to use DevRev.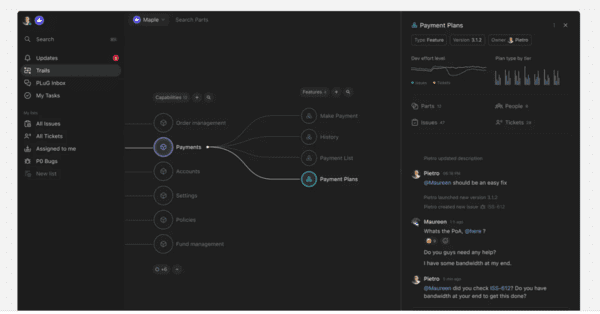 Photo from DevRev
When you use DevRev, your developers become like stakeholders. They own a piece of their code and are responsible for it.
Customers can raise complaints through chat. Developers can respond to it and raise tickets or issues directly on the DevRev platform.
This allows for speedy feedback and fixes.
With the customer at the center, you provide a big push to your startup.
A Tool for All Things Design
Design is integral for good products. Users want to come back when you create a satisfying user experience.
Figma is the best tool out there for design. Anyone can start designing with their Web app. It's great to collaborate on designs with team members.
You can also use Figma to design all of your social media banners and logos. You can create the right ones for each page.
Handing designs over to developers is easy. Developers can make use of the inspect and design buttons on the right to get every detail. They can export assets in PNG and SVG with a click of a button.
You also get many extensions with Figma. For example, one extension lets you export your Figma design directly into HTML and CSS.
Figma has also partnered with Slack. Now you get alerts about your Figma files, teams, and projects in your desired Slack channel.
You can change your Slack channels according to your specifications. Different channels can receive updates for various Figma projects.
Design is one of the pillars of a great product. Figma is a tool that lets you create beautiful designs!
A Tool To Keep Things Organized
While startups are incredibly flexible, they still need a little direction. That's why most startups create deadlines for features.
Trello is a tool that helps teams create deadlines, organize workflows, and more. It makes use of visual boards to manage everything.
These boards are then broken down into lists and cards. It is very easy to consume information and quite fun too.
Trello makes tedious tasks such as research, sales, and training exciting.
Trello also offers multiple integrations such as Github, Slack, Google Drive, Salesforce, etc.
You can use Trello with your other tools for optimum productivity.
Trello is a great, easy, and affordable tool that can help your startup stay organized.
Final Thoughts
Bear markets do not affect great startups. Great startups make use of the best tools in the market.
Use the above tools to fast-track your startup's progress to beat the competition.